Congratulations! You have made the important decision of capturing and preserving your family's memories and intimate moments for a lifetime! Here at Lexi-Bella Photography, we not only strive to capture the true connections and relationships during each intimate session but at the same time create a fun and long-lasting memory that you and your family will treasure for years to come! From  anticipation and jubilation at a maternity session, awe and wonder at your newborn session, to giggles and euphoria at a family session, Lexi-Bella Photography stimulates these tender moments and captures them with passion and excitement.
We know that our clients want digital files, but we've also found in the past that many of our clients who purchased only digital files find it difficult to make time to display the art pieces they have invested in. One of the most important goals toward which we strive is to produce for you timeless art memories of your family. So many digital files end up hidden on a hard drive where they are not enjoyed on a daily basis, as printed art can be. Therefore, our pricing structure is designed to provide you with the digital files you want, and still offer you the guidance to help you turn your session into printed pieces of artwork. With either option, below, you get digital files and a print piece.
There are two session types to choose from: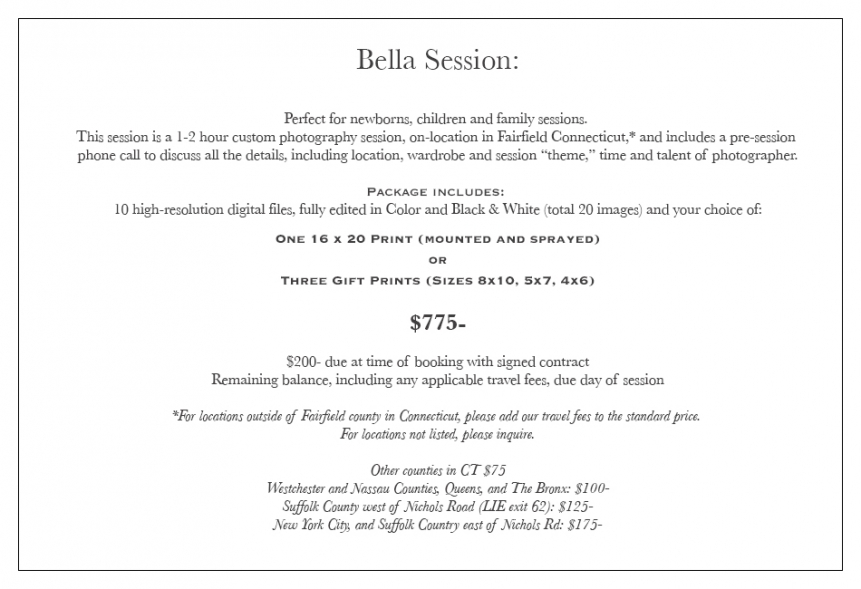 Pricing does not include CT Sales tax
To book your session, information on availability or for a full pricing list including  additional digital files, prints and albums please contact us!